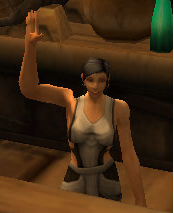 Chanelle Jinx
Edit
Chanelle Jinx is one of the barmaids at the Pig 'n' Whistle. She's a very friendly woman, almost to be found every night in the Pig 'n' Whistle.
Biography
Edit
Chanelle was born in the Mages Quarter together with her mother, dad and two brothers. Growing up with two boys, Chanelle has a close relation to her mother. Chanelles family was quite rich, but her mother wanted her to learn how it is to do hard work. So she sent her out to find a job. Chanelle came to the Pig 'n' Whistle. Here she met Victor, the owner. Victor gave Chanelle the job as barmaid, and that's where she is now.
Relevant Relatives UNDER CONSTRUCTIONEdit
Jul'Kie: One Chanelles closer friends. Her and Kie have been working together at the inn for some time, and Chanelle feels safe and cormfortable when Kie is around.
Victor D'Waltir: The owner of the Pig, and Chanelles boss.
Ad blocker interference detected!
Wikia is a free-to-use site that makes money from advertising. We have a modified experience for viewers using ad blockers

Wikia is not accessible if you've made further modifications. Remove the custom ad blocker rule(s) and the page will load as expected.