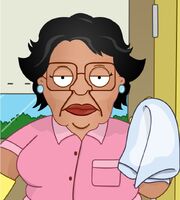 Description.
Edit
Consuela is a short and fat woman and looks rather spanish. She has an annoying voice as if she's constantly nagging. Consuela always has a pair of glasses.
"Mmmmmmhhhmmmhmh.."
"Noooo..I stay.."
"Noo.. I clean"
"Doggy outside"
"I stay.. I clean"
"You Fat keep you warm"
"We need lemon pledge"
"No, doggy out! Afuera!"
Ad blocker interference detected!
Wikia is a free-to-use site that makes money from advertising. We have a modified experience for viewers using ad blockers

Wikia is not accessible if you've made further modifications. Remove the custom ad blocker rule(s) and the page will load as expected.